Refugees from the Middle East are missing in Belarusian forests
Migrants from the Middle East have spent more than a week at the border of the Belarusian-Polish border. Half of the refugees surrendered and agreed to deportation. About a thousand people have moved to a warm hangar, from where they will be sent straight to the airport. The rest hope that Poland will open the gates to Europe for them. Meanwhile, some managed to hide in deep forests, where they were trapped. The chat rooms have dozens of wanted messages from their loved ones. We talked with those who lost their relatives.
We also listened to the opinions of ordinary Belarusians who live in Grodno, Minsk, Warsaw: are they ready to accept migrants on their territory.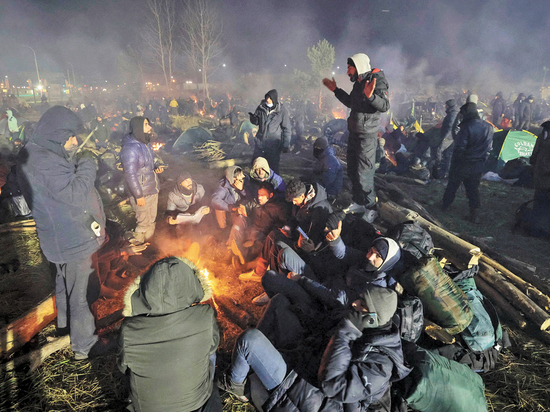 Photo: AP
We talked with people who have lost their loved ones.
Karem said that he was looking for relatives: "We are looking for a brother, his name is Govand Omer Ali, he is 31 years old. His 3-year-old daughter is with him.
We do not know anything about them, whether they are alive or dead. We lost contact with them about 6 days ago. They lived in the forest. We arrived in Belarus from Kurdistan. Help, please, we will give the photos. The last thing we know: they were near a village. My brother has a black beard, he is wearing a black jacket. His daughter is in a blue jacket and hat. "
Another man also asked for help in finding his son:" My 24-year-old son is now in a refugee camp in the forest. When everyone was asked to go to a building where it was warm, he refused because he was afraid of deportation. His entire family is in Germany. Here are his two siblings and parents. He has been sitting at the border for eight days. He just wants to get to his family.
I thought to return to Minsk, but they didn't let him through, they kept him at the border. Four years ago we were separated. We then tried to get to Europe through Turkey. We were arrested, put in jail. They let me go with my wife, the youngest 6-year-old son and the eldest son, he is disabled. And the middle one was deported to Kurdistan.
Now my son has gone to Belarus in the hope of reuniting with us. Did not work out. I don't want him to return to Iraq, where he has no one. "
This is what a woman whose brother was stuck on the Belarusian-Polish border told us: "My brother is a Syrian, but he lived in Libya. He is now at the border. Together with him there are six more people.
Eight days ago they managed to reach Poland, where they were for three days. Then they were caught by the police and taken to the border. There they were met by Belarusians, who were not allowed into the city. My brother cannot return to his homeland, in Libya he faces the death penalty. He and his comrades got stuck between Belarus and Poland somewhere near Brest.
My brother is the father of three children who live in Germany. He arrived in Belarus hoping to get into the European Union. He is a very sick person. Now he lies on the ground in a serious condition. The problem is that the Belarusian security forces keep them alone and do not allow them to go to a large camp near Grodno. My brother needs hospitalization.
I knock on all doors, I called the Belarusian Red Cross with a request to be found and taken to the hospital. But they are not being looked for. They have no food, water, warm clothes. They cannot explain themselves to the border guards, they do not understand the language. My brother has high blood pressure, asthma and rheumatism. He recently suffered a heart attack. One of his friends suffers from kidney pain. There is no connection with them for several days. "
" Three-year-old girl is very weak "
A week ago, Polish volunteers created their own chat room to search for refugees. Every day they receive information that this or that group of migrants who have fallen into a trap is sitting in the forest. People cannot get out of the forest. If they meet on the way Polish border guards, they drive them to the Belarusian territory. The Belarusians, in turn, are ordered to go back to Poland. Volunteers are trying to contact refugees in order to deliver them food and provide medical assistance.
Volunteers report on their activities in social networks.
"We received a call from a group of 7 people who are in the forests. A 50-year-old woman complained of pain in her left shoulder. We arrived at the place, delivered food, water, thermal blankets. The woman had a chill and torsion of the shoulder joint. Stabilized her shoulder. A superficial wound was treated on one man. They examined a 16-year-old girl with a chronic illness, but she had her own medications. "
" We drove 70 km to find a family that has been living in the forest for three weeks. At first they lived in the Belarusian forests, now they sit on the Polish side for three days. They did not eat or drink for several days. With them is a three-year-old girl who is severely weakened due to vomiting. Three adult patients complained of coughing, nausea and vomiting. Their condition improved when they ate and received pain relievers. "
We talked with a Polish volunteer, who spoke about his work: "Refugees contact us, throw off their location by phone, if possible. We know forests well. If we do not find them, we leave large black bags with food and water nearby so that migrants can find them.
Many refugees are stuck in the forest. Apparently, the guides took them into the depths of the forest and abandoned them. Colleagues said that there was a family of 10 who tried to get out of the thicket eight times. They were caught by the Poles and thrown back to Belarus. And the Belarusians were sent back to Poland. With them was a boy who had been bitten by a dog. We have not heard anything about them for a long time.
There was also a group of migrants who spent 25 days in the forest. We got out of there barely alive. Those who manage to get out of the forest and not run into the border guards go to the first houses in the village that come across, asking for a night's lodging. Some Poles accept them. But most are driven. "
"They started kindling a birch grove"
Belarusian chats are boiling with indignation. The Belarusians themselves are not happy with guests from the Middle East. Some of them explained their indignation to us.
Maxim (Grodno): "I hope they will not be left in the city, they themselves have no work. For example, I wonder why they were provided with free firewood, but our pensioners are not. Some Belarusians cannot afford to buy firewood for the winter, it would be better if the authorities help them. "
Elena (Grodno): "I want them to leave as soon as possible, so that their torment ends. Poles are only ready to accept labor, and these Poles will not work for them. The topic of free firewood for them is being vigorously discussed with us. Although everything is clear here. Firewood was brought to them because the migrants started kindling a whole birch grove. We had to stop them. "
Mikhail (Grodno): " I live near the border. He wrote a complaint to the Ministry of Natural Resources and Environmental Protection of the Republic of Belarus about the destruction of forests by migrants. I never received an answer. Usually, if you write a complaint about Belarusians, they immediately come with checks. "
Most complaints in chats are from Minsk residents. A resident of the capital Nikolai shared his observations: "They say that Belarus no longer accepts refugees. But Minsk is full of them. Only the crowds are now not only in the city center, near the Gallery shopping center, but also in the Zamok shopping center, and near the Fashion House. True, now they were forbidden to go inside with their things, they leave their bales on the street. But it is clear that they are well equipped. "