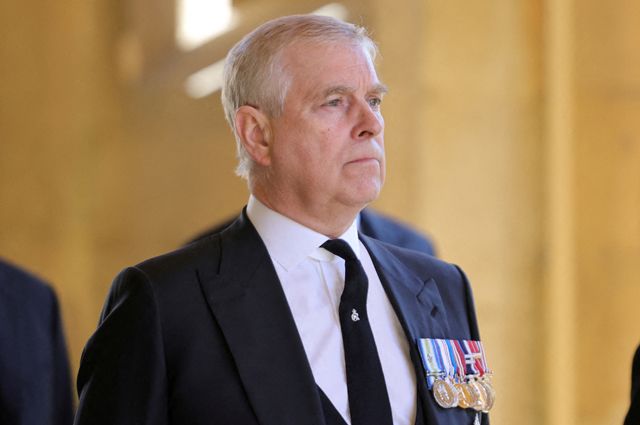 ​Queen of England Elizabeth II on the eve of the 70th anniversary of her accession to the throne has to do things that are by no means festive. Prince Andrew has created problems for the crowned mother that cannot be resolved without consequences.
"The Duke of York resigns his military titles and royal guardian duties"
"With the consent and approval of the queen, the Duke of York resigns his military titles and royal trustees," — Buckingham Palace press release said. Also, according to sources, Andrew is deprived of the right to bear the title "His Royal Highness".
The second son of the British Queen has lost the rank of Colonel of the Grenadier Guards, Commander of the Navy Aviation, Colonel of the Royal Highland Physiliary Regiment.
More than 150 British veterans turned to Elizabeth II with a request to deprive Andrew of military ranks, indicating that the prince could not meet the high standards of military honor and dignity, and therefore could no longer be in the Royal Armed Forces.
Scandal , as a result of which the queen's son is deprived of titles and titles, has been going on for more than a year. And if a person of a more modest origin had been in the place of the prince, it is very likely that he would have spent his days behind bars long ago.
Prince and financier
Back in November 2019, Andrew announced that he would not be acting as a member of the royal family. A statement released by the Prince's press office said: "Circumstances relating to the friendship that previously connected me with Jeffrey Epstein, have become a serious impediment to the work my family does and to the many organizations and charitable societies I support… I have asked Her Majesty's permission to cease my public duties… I unreservedly regret the decision to maintain acquaintance with Epstein.
66-year-old American financier Epstein was found dead in a holding cell on August 10, 2019. He did not want to live after he realized that his reputation was destroyed forever, and only years of imprisonment lay ahead, from which he could no longer get out.
A successful entrepreneur, philanthropist, owner of a fortune that was estimated at billions of dollars, Epstein was friends with movie stars, pop stars, politicians, crowned persons. "Nice Guy" Jeffrey was considered Woody Allen, Bill Clinton, Donald Trump, Crown Prince of Saudi Arabia Mohammed bin Salman, Tony Blair and many more.
Underage Sex Slaves
However, during a lengthy investigation, it was established that Epstein in his mansion staged sexual orgies, the participants of which were girls under 18 years old. Moreover, he had fun in this way not alone, but offered minors to his influential friends.
Among Epstein's many friends, the name of Prince Andrew also appeared. Moreover, investigators who searched the house of a pedophile billionaire found in his records as many as 16 different telephone numbers of the prince, including two in the palaces of the royal family. This indicated that the friendship between Geoffrey and the son of the English queen was very close.
Moreover, the prince was directly pointed out as the person to whom Epstein put youngsters in the bed.
In 2015, the American Virginia Giuffre, nee Roberts, testified under oath that at the age Epstein effectively turned her into a sex slave for 17 years. One of the people she was forced to have sex with, according to the victim, was Prince Andrew.
"Sorry, I was trying to be polite"
The son of Queen Elizabeth exacerbated his already unenviable position after he gave an interview to the BBC, in which he tried to explain his relationship with Epstein.
The Duke of York said that he does not regret friendship with Epstein, so how it provided him with many opportunities to learn new things about business and trade. The prince does not regret that he regularly stayed at the billionaire's house, as it was "convenient".
"Do I regret that he clearly behaved inappropriately? Yes, — said the prince.
The dumbfounded reporter asked, "Inappropriately? He was a sex offender.
"Yes, I'm sorry, I was trying to be polite when I thought he was a sex offender," — recovered the Duke of York. As for an intimate relationship with Virginia Giuffre, he continued to deny it in an interview, claiming that he could declare this under oath.
Back in 2009, Giuffre and Prince Andrew's representatives entered into a settlement agreement under which she dropped all charges in exchange for $500,000 in compensation.
Andrew will have to pay. And disappear out of sight
But now Giuffre's new lawsuit is being considered, and all attempts by the prince's lawyers to close it have failed. Senior Judge for the Southern District of New York Lewis A. Kaplan denied the defense motion, setting a hearing on the merits for September 2022.
Giuffre's lawyer told reporters that his client is not interested in money — she needs confirmation. Nevertheless, American experts believe that Prince Andrew can end the case with a settlement agreement, but this time it will be about compensation in the amount of at least $5 million.
However, reputational costs look much more serious. That is why now Andrew is being stripped of all regalia — he will conduct further legal proceedings not as a representative of the English royal family, but as a private person. This will at least somehow reduce the damage caused to the ruling dynasty.
Andrew's prison is not threatened at the moment. In the United States, we are still talking about a civil lawsuit, and in the UK, the London police closed the investigation into these allegations in the fall of 2021, considering that the claims against the prince were not sufficiently substantiated.
According to British experts, the measures taken by Queen Elizabeth II , signify a kind of internal isolation of Andrew. They will try to remove it from sight so that an extra mention does not spoil the already shaken prestige of the crown.